People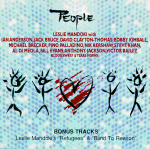 ---
On the edge of Hell (L. Mandoki/L. Bencker)
Hold on to your dreams (L. Mandoki/L. Bencker)
I dance through my dreams (L. Mandoki/L. Bencker)
Carry me home (L. Mandoki/L. Bencker)
Blue mood (L. Mandoki/L. Bencker)
Life is like a strange song (L. Mandoki/L. Bencker)
Imagine (J. Lennon)
Mother Europe (L. Mandoki/M. Varga)
Why don't you stop? (L. Mandoki/L. Bencker)
In times of change (L. Mandoki/L. Bencker)
Love and money (N. Kershaw)
Last night (L. Mandoki/L. Bencker/D. Clayton-Thomas)
Refugees (M. Varga/A. Acs/L. Zsoldos/L. Mandoki)
Blind to reason (L. Mandoki/L. Bencker)
---
Produced: 1994 Produced by: Leslie Mandoki
Record label: PolyGram 523246-2
.
In 1994 Hungarian jazzdrummer Leslie Mandoki assembled some of the musicians that had influenced him, and recorded this Cd.
The music is jazzy with a lot of pop- and rockinfluences.
It's really an enjoyable album. David Clayton-Thomas is singing on most of the songs.
Alone on two, "Carry me home" which is a B,S&T-influenced song, and the ballad "Last Night".
---
Leslie Mandoki - Vocals, drums, udu & percussion
Laszlo Bencker - Piano, keyboards, organ
Ian Andersson - Vocals & flute
Jack Bruce - Vocals & bass
David Clayton-Thomas - Vocals
Bobby Kimball - Vocals
Michael Brecker - Tenorsax
Nik Kershaw - Guitar &_ vocals
Pino Palladino - Bass
Steve Khan - Guitar
Al Di Meola - Guitar
Bill Evans - Sopranosax
Anthony Jackson - Bass
George Kopecsni - Guitar & backing vocals
Mike "Spike" Streefkirk - Backing vocals
Blood Sweat & Tears Horns:
Jerry Sokolow - 1st trumpet
Steve Guttman - 2nd trumpet
Tim Ries - Sax
Charlie Gordon - Trombone
---