Played a little fiddle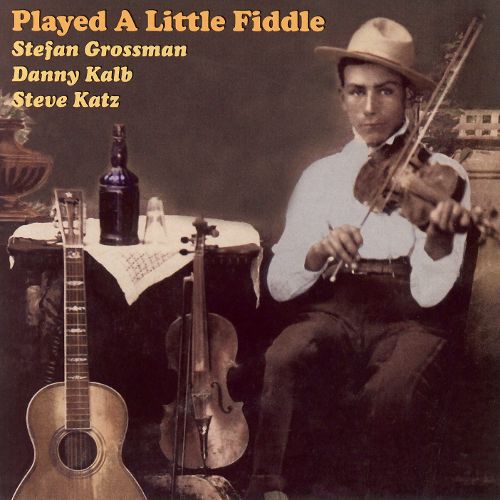 ---
1. Played a Little Fiddle
2. Green Rocky Road
3. Mississippi Blues
4. Old Country Rock
5. Candyman Fantasia
6. Medley: Katz Rag & My Creole Belle
7. Richland Woman Blues
8. Kettle of Fish
9. Rising of the Midnight Sun
10. Long Distance Cal
11. Living in the Country
12. Southbound Train
13. Shuffle Rag
14. Bolden Blues
15. Glory of Love
---
Produced: 2007
Produced by: Stefan Grossman
Opening is Steve Katz playing harmonica and singing on "Played A Little Fiddle." Stefan Grossman and Danny Kalb trade licks on this infectious tune.
Guitar instrumentals included are "Old Country Rock," "Shuffle Rag," "Candyman Fantasia," and Pete Seeger's "Living In The Country." Grossman is usually
fingerpicking while Kalb is handling the bass line and building his lead. On the instrumental "Mississippi Blues" Steve Katz is added again on harp.
On "Katz Rag" Katz is playing the washboard; this medley evolves into Katz's vocal on Mississippi John Hurts' "My Creole Belle." On "Rising of The Midnight Sun,"
another instrumental, Grossman plays slide guitar. The combination of acoustic guitars creates moods ranging from the more traditional to John Fahey-like eclectic sojourns.
This is great late-night music for relaxation.
Kalb sings lead on Muddy Waters' "Long Distance Call." Kalb's guitar is wicked as he takes a wild solo. Katz's harmonica playing has never sounded better. Kalb sings
again on Big Bill Broonzy's "Southbound Train." Grossman sings lead on "Richland Woman Blues" and on Jelly Roll Morton's "Buddy Bolden Blues." Katz also sings on
"Green Green Rocky Road," and again on his own song about the 1960s, "Kettle of Fish," and on Billy Hill's "Glory of Love."
Not only is it great to hear Steve Katz sing again, but this album also reminds us of how beautiful the combined styles of acoustic guitar can be when played by
masters of the instrument. Their camaraderie is reflected in their playing, which can only be described as exuberant. – Folk Wax
---