Clayton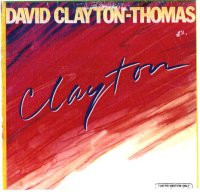 ---
1. Laying down rock and roll (D. Clayton-Thomas)
2. Fooled ya' (D. Clayton-Thomas/W. Smith)
3. Homeward bound (P. Simon)
4. Sweet sixteen (D. Clayton-Thomas/D. Riley)
5. I'm a free man (D. Clayton-Thomas/D. Riley)
6. Liberated girls don't cry (D. Clayton-Thomas/D. Riley/W. Smith)
7. Friday the 13th child (D. Clayton-Thomas)
8. Professor Longhair (D. Clayton-Thomas/W. Smith)
9. Sugar comes from Arkansas (D. Clayton-Thomas/D. Riley)
10. Drown in my own tears (H. Glover)
---
Produced: 1978
Produced by: Jack Richardson
On some of the tracks it sounds almost like a B,S&T-album.
Most of the songs are very good, but "Homeward bound" by Paul Simon seems out of place.
"Friday the 13th child" and "Professor Longhair" are better on the other albums.
But the other songs makes it worth looking for.
---