Rare, Rarer & Rarest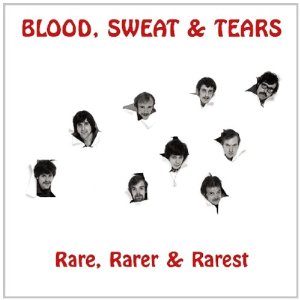 ---
1 You've Made Me So Very Happy [Mono Single Version] (B. Holloway / P. Holloway / B. Gordy, Jr. / F. Wilson)
2 Blues, Pt. 2 [Mono Single Version] (D. Clayton-Thomas / B. Colomby / S. Katz / F. Lipsius)
3 More and More [Mono Single Version] (P. Vea/D. Juan)
4 Spinning Wheel [Mono Single Version] (D. Clayton-Thomas)
5 And When I Die [Mono Single Version] (L. Nyro)
6 Hi-De-Ho [Single Version] (G. Goffin/C. King)
7 Got to Get You Into My Life [Single Version] (J. Lennon / P. McCartney)
8 Kråkbergravningen (The Crow's Funreal) (B. Lindgren / G. Wadenius)
9 M (D. Clayton-Thomas / B. Colomby / S. Katz / F. Lipsius)
10 The Confrontation [Instrumental Interlude, Pt. 1] (R. Halligan)
11 The Confrontation [Instrumental Interlude, Pt. 2] (R. Halligan)
12 The Warmup [Instrumental Interlude, Pt.1] (R. Halligan)
13 The Warmup [Instrumental Interlude, Pt.2] (R. Halligan)
14 The Seduction [Instrumental Interlude, Pt.1] (R. Halligan)
15 The Seduction [Instrumental Interlude, Pt.2] (R. Halligan)
16 The Morning After [Instrumental Interlude, Pt.1] (R. Halligan)
17 The Morning After [Instrumental Interlude, Pt.2] (R. Halligan)
18 The Morning After [Instrumental Interlude, Pt.3] (R. Halligan)
19 The Reunion [Instrumental Interlude, Pt.1] (R. Halligan)
20 The Reunion [Instrumental Interlude, Pt.2] (R. Halligan)
21 Just Want to Mention (You've Been Alone Too Long) [The Owl and the Pussycat: Closing Credits] (R. Halligan)
22 The Owl and the Pussycat [Instrumental Interlude - Outtake 1] (R. Halligan)
23 The Owl and the Pussycat [Instrumental Interlude - Outtake 2] (R. Halligan)
24 The Owl and the Pussycat [Instrumental Interlude - Outtake 3] (R. Halligan)
25 The Owl and the Pussycat [Instrumental Interlude - Outtake 4] (R. Halligan)
---
Released: 2013.
Record label: Wounded Bird Records WOU-3040
There are releases that will only appeal to fans, and there are releases for strict diehards. Wounded Bird's Rare, Rarer, & Rarest is intended for the latter.
It contains 15 tracks of instrumental interludes and outtakes from The Owl and the Pussycat film score. This soundtrack was a departure for the group as they tried their hand, and succeeded for the most part, at playing introverted, steamy jazz numbers or all-purpose, funky jazz-rock. With many songs repeated, or only lasting 20-45 seconds, there isn't much opportunity for a cohesive listen. However, since most of these songs didn't make it onto the actual soundtrack -- which favored audio clips of Barbra Streisand's dialog from the movie -- this is the best place to find the band performing this specific Taxi Driver/Blaxploitation style of jazz-rock instrumental music. Only one of the tracks from The Owl and the Pussycat is with vocals, "Just Want to Mention (You've Been Alone Too Long)".
"Blues-Part II" ends up in Eric Satie's "Gymnopedie no. 1."
Also included are mono versions of their singles. And two rare tracks of interest. "Kråkbergravningen (The Crow's Funreal)" was the B-side of "So long Dixie" in Europe.
"M" an unreleased song that didn't make it on their 4th album. But it can be found on American Flyers first album.
---
---