No sweat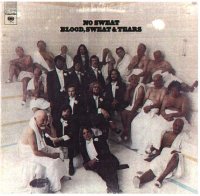 Released on cd 2005 by Wounded Bird Records.

---
1. Roller coaster (M. James)
2. Save our ship (C. Weil /G. Wadenuis)
3. Django (J. Lewis)
4. Rosemary (R. Newman)
5. Song for John (L. Marini Jr.)
6. Almost sorry (J. Kent/D. Lubahn)
7. Back up against the wall (B. Buie/J. R. Cobb)
8. Hip pickles (L. Marini Jr.)
9. My old lady (C. Weil/G. Wadenius)
10. Empty pages (S. Winwwod/J. Capaldi)
11. Mary Miles (M. Rabon)
12. Inner crisis (L. Willis)
---
Produced: 1973
Produced by: Steve Tyrell
Jerry Fisher continuous to be an excellent singer. His singing seems to be better and better.
There are some real rockers such as "Back up against the wall" and "Roller coaster".
Of the ballads "Save our ship" is the best. The instrumentals "Inner crisis", "Hip pickles" and "Django" are very jazzoriented.
All in all a very mature and enjoyable album.
---
Jerry Fisher - Lead vocals
Dave Bargeron - Trombone, tuba
Tom Malone - Trumpet, Flugelhorn
Lew Soloff - Trumpet, flugelhorn
Lou Marini, Jr - Alto, soprano sax, flute
Larry Willis - Keyboards
Georg Wadenius - Guitar
Jim Fielder - Bass
Bobby Colomby - Drums
---