Brand new day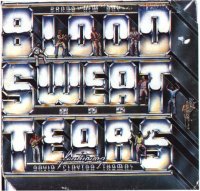 ---
Somebody I trusted (D. Moore)
Dreaming as one (W. Smith/D. Palmer)
Same old blues (J. J. Cale)
Lady put out the light (Fletcher/Flegg)
Womanizer (R. Sharp)
Blue street (R. Edelman)
Gimme that wine (J. Hendricks)
Rock and Roll Queen (P. Driscoll/B. Johnson)
Don't explain (A. Hezog Jr./B. Holiday)
---
Produced: 1977
Produced by: Bobby Colomby and Roy Halee
Another brilliant album. It's back to the good old B,S&T-sound again.
There are no originals written by the band, but the chosen songs are excellent.
Such as "Somebody I trusted", originally recorded by Joe Cocker as "Put out the Light" ,
J.J. Cale's "Same old Blues" and Randy Edelman's "Blue street". "
Gimme that Wine" with it's humorous lyrics have been a livefavorite ever since.
On "Dreaming as one" Chaka Khan sings the female vocals.
---
David Clayton-Thomas - Lead vocals
Mike Stern - Guitar
Bill Tillman - Saxophone, flute
Forest Buchtel - Trumpet, fluegelhorn
Tony Klatka - Trumpet, fluegelhorn
Dave Bargeron - Trombone, tuba
Larry Willis - Keyboards
Danny Trifan - Bass
Bobby Colomby - Drums
Roy McCurdy - Drums
---