Books and Videos
If you know anything about the books and videos mentioned, or you have information about other books or videos.

Please send me a mail.
---

Blood Sweat & Tears recorded this performance at the Civic Theatre in Halifax, England on April 9, 1980.

It's an incomplete show it stops in the middle of Manic Deperssion. But it's a nice version of You're the one.

I enjoyed it very much.
Label: MRA ENTERTAINMENT

Release Date: 03-OCT-05

Personnel
David Clayton-Thomas - Lead vocals
Robert Piltch - Guitar,vocals
Earl Seymour - Saxophone, Flute
Bruce Cassidy - Trumpet, flugelhorn
Vernon Dorge - Alto, soprano sax, flute
Richard Martinez - Organ, piano, clavinet
David Piltch - Bass
Bobby Economou - Drums


Songs:
1. Agitato (B. Cassidy)
2. Nuclear blues (D. Clayton-Thomas)
3. Yoyu're the one (D. Clayton-Thomas)
4. God bless the child (B. Holiday/A. Herzog Jr.)
5. Lucretia MacEvil (D. Clayton-Thomas)
6. HI-DE-HO (G. Goffin/C. King)
7. And when I die (L.Nyro)
8 Spinning wheel (D. Clayton-Thomas)
9. You've made me so very happy (P. Gordy Jr./ B. Holloway/ P. Holloway/ F. Wilson)
10. Spanish Wine (suite)
11. Manic depression (J. Hendrix)
---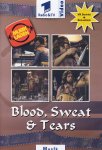 It's the same show as Hip Pickles with Sail Away as a bonustrack.
Back Up Against The Wall

Hip Pickels
You Made Me So Very Happy
Down In The Flood
Inner Crisis
Almost Sorry That I Left You
God Bless The Child
Snow Queen
Sail Away - (bonus track)
---
"Owl & Pussycat" [European release is on RCA Columbia label, code CVT 10011.
This label might now be owned by another brand].
---
"Live in Stockholm 1973" [BMG label. European code 74321 106673].
It is only occurrence of the track "Sail Away"
---
"Nuclear Blues" [European VMV label, confirmed to exist, released when Nuclear Blues line up toured]
---
The best of Blood, Sweat & Tears
Transcribed scores, Hal Leonard Publishing Corporation,
7777 West Bluemound Road, POBox 13819,
Milwaukee, WI 53213
Published 1989, 140 pages.
Here you can find the arrangments for the following songs:
And When I Die, Go Down Gamblin, God Bless The Child, Lucretia Mac Evil,
Sometimes in Winter, Spinning Wheel, You've Made Me So Very Happy
---
Title: Blood Sweat & Tears
Publisher: Amsco Music Publishing Company/New York Music Sales Limited/London Editor: Herbert Wise
Designer: Ira Friedlander Piano Arrangements: Leo Alfassy
Cover Photo: Norman Seef Photos: Norman Seef, Herbert Wise
Published: 1971 Amsco Music Publishing Company Library of Congress Card
Catalogue Number: 74-166169 International Standard Book Number (ISBN): 0-8256-2652-8
Amsco Publishing Company 33 West 60th Street New York, NY 10023
Music, lyric & photo book issued soon after BS&T 4 album
This is a soft-cover book containing the story of the band, band member biographies, charts and lyrics of I think just about every tune they recorded up to BS&T 4. Dave Bargeron is already in the band.
---
Backstage Passes - Rock 'n' Roll Life in the Sixties Al Kooper with Ben Edmonds
Publisher: Stein and Day/Publishers/New York First published in 1977 Copyright 1977 by Al Kooper Library of Congress
Publication Data: ML420.K8A3 784¦.092¦4 75-11758 ISBN 0-8128-1840-7 Paperback: ISBN 08-8128-2171-1
This one might still be out.. It is a very funny book, but now we know other versions of how BS&T was born.
---